Stories Without Borders –Storytelling Session #2
June 21, 2018 @ 12:30 pm - 3:00 pm
Free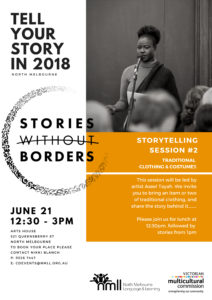 Please join us for the second storytelling session in this exciting new project run by NMLL.
Stories without Borders is a community development project using the medium of storytelling to create and nurture strong intercultural, intergenerational and interfaith connections between the diverse communities residing in and around North Melbourne. NMLL will be the lead agency in this project, with connections to community groups and members from an identified 33 different countries. We will collaborate with community based agencies, local elders, youth groups, artists, and the wider community to develop and deliver a series of community storytelling sessions based on themes that have been identified through community consultations of importance and interest.
This project will take a creative approach, with the storytelling sessions being well documented through photography and video. We will be assembling a small team of young people to be the film crew, and they will receive some training and mentoring in using digital SLR cameras, so that they can record the stories, ensuring that the community tells their stories, in their way.
We will be utilising the creative skills of artist Aseel Tayah to facilitate the Story Workshops, where the documented stories will be referenced and used to develop a community led, co-created response to the stories shared. This response will be developed into a community offering such as a performance piece, art exhibition or installation to share the results of this community collaboration. This will then be performed or displayed as a part of Refuge (multi-year project) at the Arts House, and also at the Spring Fling Festival 2018.
For further information please contact Nikki Blanch at NMLL:-
Ph: 9326 7447 / cdevents@nmll.org.au