This report provides an evaluation of the pilot Community Learning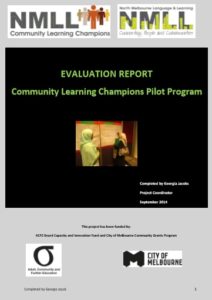 Champions (CLC) Program funded through ACFE Innovations Grants in 2013 and City of Melbourne Community Grants Funding. The CLC program was based on a successful United Kingdom model from which the NMLL pilot program was heavily modelled upon.
---
A Summary Report to City of Melbourne
This report provides an analysis and evaluation of information gathered as part of a series of consultations with individuals and organisations regarding the inclusion of culturally and linguistically diverse (CALD) individuals in mainstream volunteering.
---
Family Nutrition Resources
NMLL collaborated with cohealth and the Waterwell project to deliver healthy eating workshops to parents. This resulted in the development of healthy eating resources in Vietnamese and English. If you'd like some copies, please contact Loretta Asquini on 9326 7447, lasquini@nmll.org.au